McKownville Improvement Association
McKownville Reservoir Park

---
The McKownville Reservoir and Water District
The McKownville water supply until 1973 came from the dammed reservoir on the west branch of the Krum Kill, since 1959 sandwiched between Western Avenue and Stuyvesant Plaza. After 1973, the reservoir was retained as a potential fall-back for water supply, and fire department use. Once construction of the Crossgates Mall was permitted in 1981, with untreated runoff from its parking areas and roofs entering the Krum Kill drainage, the reservoir subsequently could not be used for water supply without major expenditure for improved treatment and filtration; essentially this meant it would never be considered again as a source of domestic water. A proposal for the reservoir and the land of the Water District around it to become a Town Park was made not long after the cessation of use as a water supply in 1973. The Crossgates developers in 1978 even offered to pay for this conversion if the Town would agree to allow the watershed to be polluted by untreated mall parking lot runoff and therefore abandoned as a domestic water source. This did not happen; the developers got what they wanted apparently without having to pay anything other than their lawyers fees.
Mr. Ken Runion as Town Supervisor is perhaps the person who should be credited most for moving the Park from an idea to reality, with a clear plan developed by 2006, and the with the implementation of a modified plan, completed in 2010. The McKownville Improvement Association and its president, Don Reeb, were instrumental in successfully promoting the idea to the Town Board and its Supervisor in 2001-2.


Airphoto view taken in 1980 looking northwest over Stuyvesant Plaza, the NY Thruway, Washington Avenue Extension, and the then largely wooded area of the Pine Bush beyond. The McKownville reservoir is seen on the left between the Plaza and buildings on the northern side of Western Avenue. At this time, there was a fountain near the eastern end.



Stuyvesant Plaza shopping center was opened in 1959. Several easements granted to the Plaza between that time and 2009 of McKownville Water District land reduced the area available for the Park. Of the original 9.51 acres purchased in 1949, 4.17 acres are now designated as the Park. Map showing the extent of the original property and the easements that have eaten into it.












2006 McKownville Reservoir Park proposal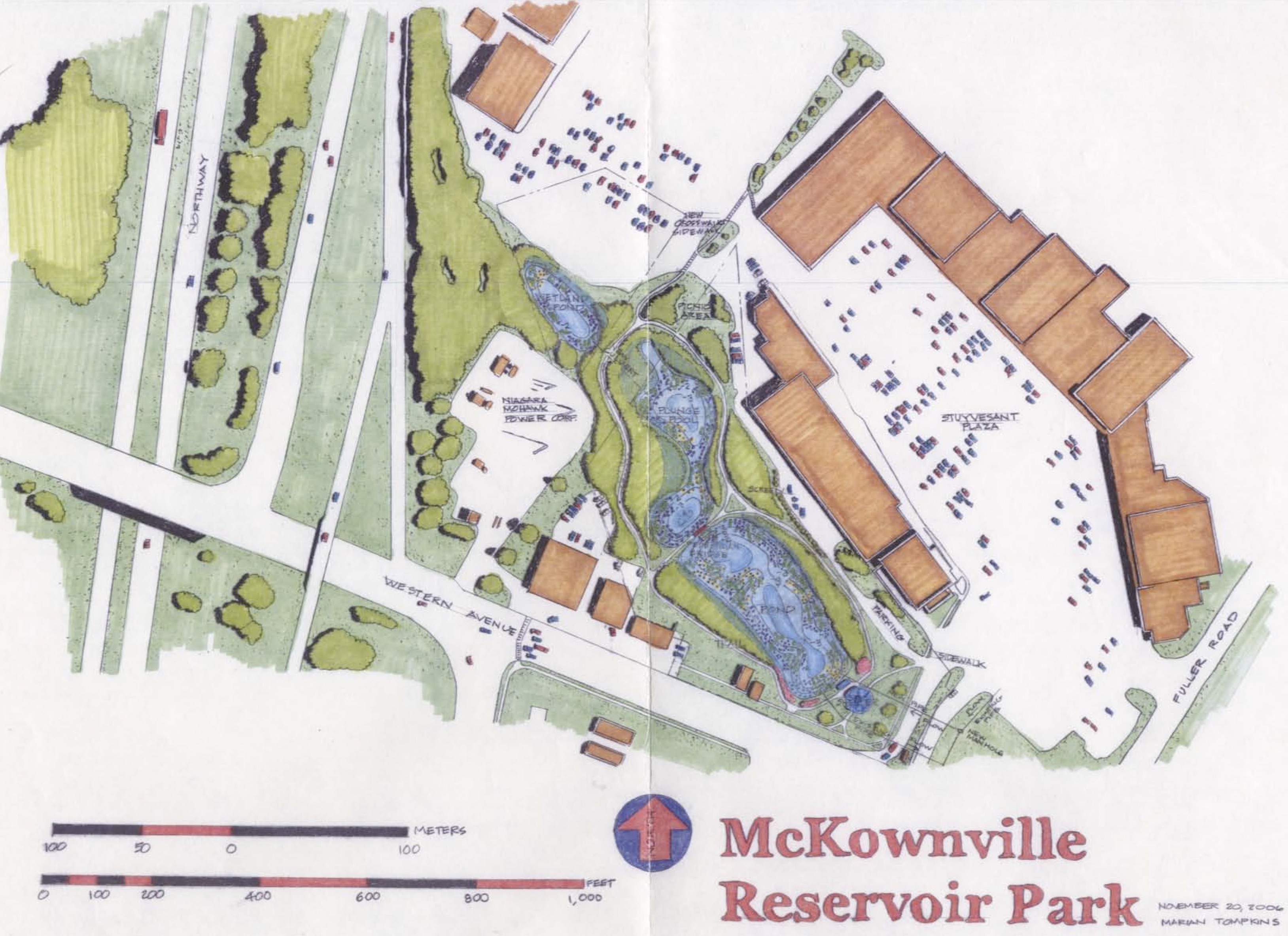 Outline map of the 2006 proposal for the McKownville Reservoir Park. The red line shows the full extent of the Water District property, except for the access easement on the east end.
Click on the image for access to a page size pdf file of this image



Concept drawing made in 2006 for the McKownville Reservoir Park.
The most notable feature of this plan is that the Reservoir was to remain a pond.
There was also to have been a separate small wetland pond in the western part of the Water district property.
Click on the image to access a page-size pdf file of this drawing
Engineering overview site plan for the 2006 proposal (page-size pdf)

2009 flood-control modification of the McKownville Reservoir and establishment of the Park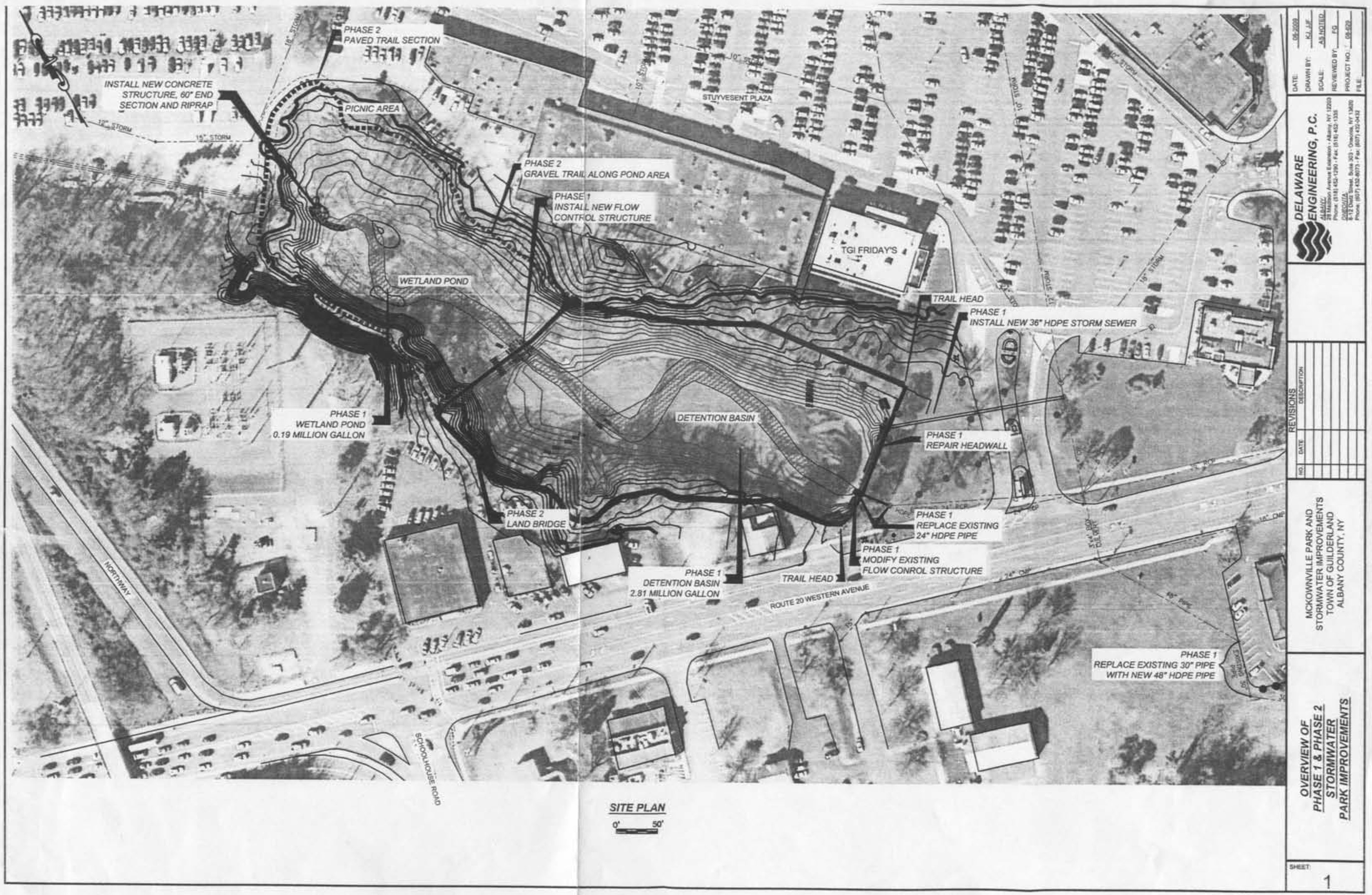 Engineering overview plan made in 2009 for conversion of the Reservoir into a large empty detention basin and wetland, with the "Reservoir" Park around it. Modifications to the inlet and outlet structures, and diversion of most of the runoff from Stuyvesant Plaza roofs and parking area into the detention basin are indicated.
Most of the undersized 24" outlet pipe running under the Western Avenue exit and entrance roads for the Plaza was not replaced; but the 30" pipe section near the dentist's office on the south side of Western Avenue was replaced with larger pipe.
Click on the image to access a page-size pdf file of this plan.
The flood-control benefits of this $600K project were understood to be and are inadequate to cope with large discharge events. Replacement of the undersized outlet pipe segment with one of larger capacity would be helpful.










This park could be significantly improved....
If in the future the undersized outlet pipe is replaced with an adequately larger pipe, could the reservoir be returned to being a pond, much enhancing the aesthetics of the Park, and perhaps even with a fountain, like the situation in 1980?

Documents relating to the McKownville Reservoir Park
Large engineering-type maps for the McKownville Reservoir Park
2011 - Lands of the McKownville Water District, showing Park land and easements affecting it (4MB greyscale pdf file)
2011 - part of the same map, with colored indication of the park, and signed by the Town Supervisor, Ken Runion, as representing the extents of the McKownville Reservoir Park (10MB color pdf file).

Easement November 4, 2009 - Book 2963, pages 1064-1070 (this file contains a map)
A parcel (about 0.51 acres) along the northern side of Parcel 1 of the 1949 purchase, for access, parking, and trash storage/handling.
Parking in this easement is available free to the public visiting the McKownville Reservoir Park.
Larger maps made in 2009 which show the easement proposed, and more details of the parking area

Other easements are listed on this webpage - Map showing the extent of the original property and the easements

Town Board minutes from 2006 and 2009 relating to the Reservoir Park and the flood-control project funding:
19 December 2006; 17 March 2009; 16 June 2009


return to property information page