The farmhouse used by the Albany Country Club for its first, temporary clubhouse, photo taken 1889.
[Morris Gerber archive image; scanned from a calendar page in W. Mohr archive held by the Albany Pine Bush Preserve; contributed by Steve Rider]
(the caption below is in part compiled and edited from notes in the W. Mohr archive)
The Albany Hunt and Country Club began in 1889-90, shortening its name in 1896. The brief caption on the page from which this photo was scanned says that this farmhouse was used as the first clubhouse. A statement in the Altamont Enterprise of 26 March 1915 that the old clubhouse burned to the ground perhaps refers to this house. There is some confusion as to whose farm and house this was, and the name of Enos was noted by W. Mohr. Articles in the Altamont Enterprise of 1894-5 state clearly that William J. Knowles sold his land and farmhouse to the Country Club, and that his farmhouse was in 1894 being enlarged and improved for the new clubhouse. The Sidney map of 1851 shows only one house where the later clubhouse was located, labelled with the name W. Cooper. William Cooper died in 1856, so there were probably one or more intermediate owners before it became Knowles' property. There is another nearby house shown on the Sidney map north of the one Knowles later owned and sold to the the Club; also labelled with W Cooper's name, and it seems possible that this is the location of the original clubhouse, pictured above. It was agreed by those who W. Mohr interviewed that the building shown in this photo is not the old "Five-Mile House" of Billy McKown, and if so that building was probably demolished before 1850. However, there is a report in the Argus (an Albany daily newspaper) of 11 November 1914 of a fire, extinguished before it destroyed a building the article states was used by the Country Club as their first clubhouse, and it is called in that article the "King's Tavern". Perhaps this was, by this date, a long-standing mis-identification, and it was only the Enos farmhouse. Or it was the old Five-Mile House, and that was then thought to have been the first clubhouse.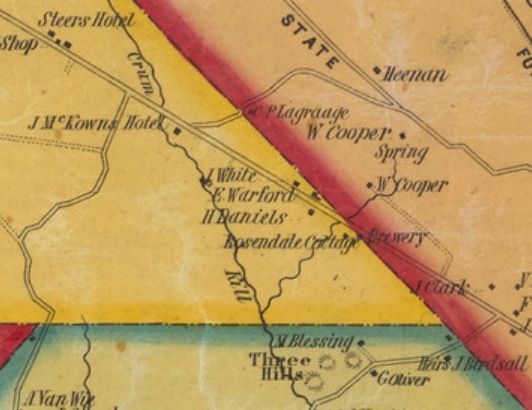 Part of the 1851 Sidney Map of the vicinity of Albany and Troy, showing the area of McKownville and surroundings.
The house that William Knowles sold to the Country Club is shown on the 1851 Sidney map, in the right place on the west side of the Krumkill east branch, labelled with the name W Cooper (William Cooper). Another house to the north, also labelled W Cooper, may be the location of the farmhouse pictured above, used as the first, temporary clubhouse.

return to McKownville older buildings photo index page
return to McKownville Improvement Association index page