1245 Western Avenue, a Federal-style house, with later additions, now the oldest structure still standing in McKownville.
Deeds viewed in the Albany County Clerk's office show a clear chain of ownership from 1834 of the 11 acre parcel of land in which this house and its lot are located:
John LaGrange quitclaim to his 5 daughters 1834/10; sold by them to Isaac and Isaac J. Lagrange 1835/11 for $750;
Isaac Lagrange sold to Jonathan Taylor 1840/02 for $900;
Jonathan Taylor sold to John Birdsall 1847/03 for $1800 - this price increase suggests that Taylor built the house soon after 1840 (but perhaps it might be older);
in 1849/08 sold by the administrator of John Birdsall's estate to Eli Warford for $450;
Warford was living in this house by 26 August 1850, the date of the 1850 census
[Warford appears on the Sidney map of 1851] [and in the Gould map of 1854];
sold to Ann Birdsall 1861/11; sold to Jacob Sager 1864/04 [Sager appears on the Beers map of 1866];
sold to William H Bailey 1870/11; sold to Annie & John Taylor 1871/07; sold to Emma McCann & Helen Salisbury 1872/05;
sold to Charles Gimlick 1881/04; inherited by Charles A Gimlick
who sold this lot and house to Minnie E Briare 1921/05
Harry S & Minnie Briare are shown as owning their house on Western Avenue in McKownville in the 1930 census;
and by the Albany City directory as owner-occupier of 1245 Western Avenue until 1939.
That directory shows that subsequent owners lived here until after 1961, but increasing numbers of renters are listed from 1945;
eventually the building became divided into four apartments all rented, as it is at present.
Fred Abele claimed in an article published in the Altamont Enterprise July 12, 1984 that this house was placed on the National Register of Historic Places, but no trace of such a registration can be found in the official register. Perhaps an application was made but was rejected. Abele also claimed in that article that this house was built in about 1840 for James F. McKown, and sold by him to Charles Gimlick. The deed succession for 1245 Western Avenue shows that this is mistaken; James F. McKown's house (see the Beers map) must have been to the west, perhaps the house formerly located at 1257 Western Avenue, demolished in 2004, or perhaps a previous structure located in that lot, demolished 1907 at the latest, or earlier, possibly 1893.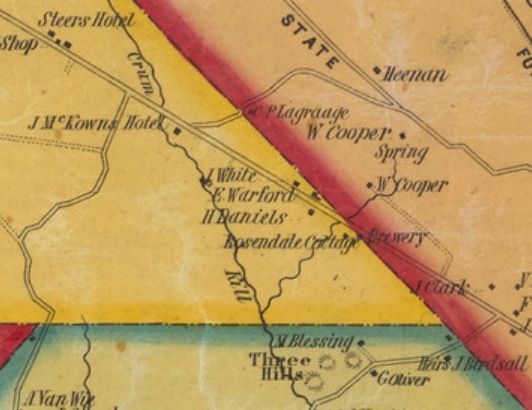 Sidney map of 1851 showing the area of Mckownville including Eli Warford's farmhouse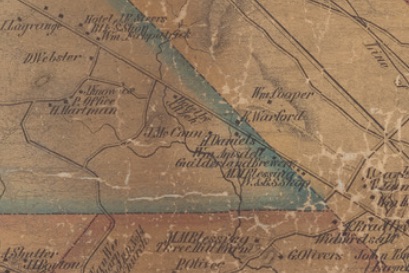 Gould map of 1854 showing the area of McKownville including Eli Warford's farmhouse



Beers map of 1866 showing the area of McKownville and the location of Jacob Sager's farmhouse (labelled J. Segar)


Listing from the 1850 US census, showing Eli (Ely) Warford, farmer, with wife and son, and neighbour Henry Daniels

return to McKownville older buildings photo index page
return to McKownville Improvement Association index page