McKownville Improvement Association
- The Normanskill people - LeGrange and Veeder families
---
The purchasers of the Van Bael Patent were early settlers on the Normans Kill. A half of this Patent was bought by Symon Volkertse (Veeder) in 1683, and the other half by Omie LaGrange in 1686, and a joint purchase/quit claim in 1716 from the heirs of Van Bael was made by the same Omie LaGrange and Johannes Simonse, son of Symon Volkertse. Family trees of local descendants of these two persons, and short biographical summaries for them are below on this page.
Cuyler Reynolds states that Omie settled on the Normanskill in 1716, but earlier farm settlement and residence seems probable.
By 1767, the Bleeker map of the Manor of Renselaerwyck shows "the Norman Kills People" where some of the LaGrange and Veeder families are located in later deeds, besides listing nearby Isaac, Omie, and Christian "Lagransie".

Extract from Map of the Manor of Renselaerwyck 1767 by J. Bleeker,
showing most of the length of the Normanskill creek and valley,
northwest from the Hudson river in the lower left. North is to the right.
Numbered settlements (mostly individual farms, or inns) are: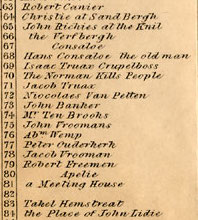 Family tree of the descendants of Omie LaGrange
A family tree including up to 9 generations of descendants of Omie LaGrange is available here.
This has been compiled and edited by Susan Anderson from a number of sources, including use of an [ancestry dot com] subscription.
The full Omie LaGrange descendant chart is shown in a very large size pdf page, 4 meters long! - [view in a separate pdf viewer; zoom in to read information].
The data on the included persons, and some others related, is available in this ged format file for the LaGrange families.
We have also made a somewhat smaller family tree pdf page showing just the first three generations descending from Omie LaGrange, which includes and identifies all those LaGrange people who obtained property in the Van Bael Patent settlement of 1789.
Also there is a simplified chart showing the LaGrange participants at each stage of the Van Bael Patent arbitration, settlement, and partition 1774-1796 (a printable, letter-sized page).

Omie LaGrange (1625-1731)
First recorded (as Omy Le Grand) buying a house in Albany in 1666, and being a master tailor.
Said by Cuyler Reynolds to be one of four sons of John De La Grange, who had come from Holland to Manhattan (New Amsterdam) in 1656. The birth date of Omie as (1660) given by Reynolds is not compatible with him buying a house just six years later; the original Omy/Omie was probably a brother of John, or perhaps a cousin, but not a son.
This person is distinguished by having lived to the age of 106, attested by the note of the itinerant Lutheran pastor in his burial record. Three of the four sons who survived him, Johannes, Isaac, and Jacobus, had descendants who obtained property in the Van Bael settlement of 1789. The fourth surviving son, Christian, appears not to have had male descendants. The three LaGranges listed in the 1767 map (above) are probably two grandsons, Christian son of Johannes, Omie son of Isaac, and Isaac his father, son of the original Omie.

Family tree of the descendants of Symon Volkertse Veeder
A family tree including up to 7 generations of descendants of Symon Volkertse Veeder is also available here.
This has been compiled and edited by Susan Anderson from a variety of sources, including use of an [ancestry dot com] subscription. It contains only families who were local residents or born here (Normanskill valley, Albany, Schenectady areas), and does not trace the lines of those who moved away.
The Symon Volkertse Veeder descendant chart is shown in a merely large size pdf page, only 1 meter long - [view in a separate pdf viewer; zoom in to read information].
The data on the included persons, and some others related, is available in this ged format file for the Veeder families.
For more extensive Veeder/Vedder/Vader family information, the website Vader Genealogy is recommended.
We have also made a somewhat smaller family tree pdf page showing just the first three generations descending from Symon Volkertse Veeder, which includes and identifies all those Veeder people who obtained property in the Van Bael Patent settlement of 1789.
Also there is a simplified chart showing the Veeder participants at each stage of the Van Bael Patent arbitration, settlement, and partition 1774-1796 (a printable, letter-sized page).

Symon Volkertse Veeder (1624-1697)
First recorded (as Symon Volkertze backer) selling a house in Manhattan in 1654, but already living in Beverwyck, a baker by occupation. One of the first settlers of Schenectady, recorded in 1667 as living there, still a baker. In 1671, recorded as buying a house in Albany, but still living in Schenectady, and now identified as a farmer. His will left his Schenectady properties to two of his four sons, Gerrit, and Volkert; he left his Normanskill land to his other two sons, Johannes, and Pieter, but the latter died before the estate was settled, and it all ended up going to Johannes.

return to Van Bael Patent page
return to history page